Babe Ruth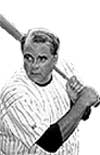 Babe Ruth is perhaps the greatest sports hero in American history. But, the "Sultan of Swat" or "The Bambino," as he came to be known, was more than a ballplayer, he was a public figure whose popularity transcended that of any game. On the baseball diamond, he set a roster of records capped by his 60-home run season. Gene Worthington brings Babe's story to life, from his youth in Baltimore and his early career as a Red Sox pitcher to his years of glory in Yankee Pinstripes.

Worthington presents Babe in Chautauqua style. First he gives a monologue, taking the audience through Ruth's life, from St. Mary's School for Boys to the famed called shot. Then, Worthington takes questions from the audience as the Babe. Finally, he breaks character and talks about Babe Ruth from a contemporary point of view and discusses the impact Ruth continues to have on baseball.

Gene Worthington has been performing historical characters for a number of years. Other portrayals include frontiersman Simon Kenton and American statesman Teddy Roosevelt. A member of the Society for American Baseball Research (SABR), Worthington has researched both Babe Ruth and the times in which he lived. His performance evokes this memorable man. As broadcaster Ernie Howe once said, "He wasn't a baseball player. He was a world-wide celebrity, an international star, the likes of which baseball has never seen since."