Homefront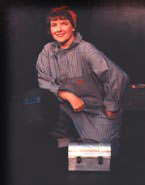 World War II brought great change to the world as young men fought brutal battles for freedom. Here in America, women fought their own battles. They struggled to keep their families and communities together, supported the troops and took their places on the assembly line.
Karen Vuranch interviewed women who lived during those turbulent times. Compiling their stories, Karen created Homefront, a one-woman, one-act play. This series of monologues by four women from Crooked Creek, West Virginia, gives each woman's perspective on the war. All of the women are members of the Evans family. In the play, Tommy Evans is a young soldier who dies on Guadalcanal. Dorothy, his wife, has gone to the city to be a welder in a shipyard. Tommy's mother, Clara is running the family farm and has learned to be a midwife, since doctors are scarce. His silly cousin Sally Ann is a teenager entranced by the romance and heroics of the war, while Tommy's sister Betty serves her country by joining the Women's Army Corps.
Each woman tells of her role in the war and the heroism that was critical, both at home and in battle. Homefront also tells about the war itself and the development of world events: from America's entry into the war, to victory in Europe and finally in Japan. The four women of Homefront chronicle this important era of American history.